(click the image above to view a printable chart that you may use the next time you're shopping - you can click on the boxes to place a check in them - you can find and order all of these online, where they are sourced from their natural, tropical environments and grown in healthy, mineral-rich soil. The quality of soil is what makes such a difference with these herbs vs. the food in a grocery store.)

One of the most powerful herbs to help you go to the bathroom is Quassia (Bitter) Bark.
Tree bark in general (along with roots) happens to be some of the healthiest food we can consume, believe it or not. One reason is because it doesn't go bad like leaves and fruits do, because of its lower water content.
(Side note: Don't be afraid to eat tree bark. If you've ever had cinnamon, then you've had tree bark already.)
As with all of the above herbs, just a little goes a long way. But don't take less than what you need. I see too many people that don't take enough, and never get to realize the real power of these herbs.
When it comes to "daily herbs," you should imagine your body as an empty gas tank. We're so depleted of minerals because farmers only put 3 minerals back into the soil (at most 16). Yet, there's 90 different minerals our bodies need that plants can't produce on their own. This is why we have to first full our gas tank with the "daily herbs." Then, whatever we consume on top of that is what will give us the full experience of these herbs.
I've been taking all of the above herbs for over 3 years now. The first year was dedicated to taking them individually as (vegetable glycerin) tinctures, so I could know how each one benefited me. This is when I was finally able to get over my pernicious winter cough and improve my breathing beyond what asthma medication had ever offered me. (I used to take three different medications, and grew up on the nebulizer.) I attribute my improved breathing mostly to mullein leaf. I can't recommend it enough for someone with asthma. (Side note: I found alcohol-based tinctures to be unpleasant as they burned my throat.)
Then the next year was spent taking only capsules that I would make. That's when I began mixing them together and found out what paired well.
The following year was a combination of both capsules and tinctures. Throughout that whole time I would always take large amounts to see what my limit was. But in fact, the more I took the better I felt. I never felt like I was taking too much, but that's just me. 
Be sure to listen to your body, since it's the only thing that can tell you how much you need. 
You can consume a little at first, but again realize it won't work if you don't take enough. The above herbs should be treated as vegetables, since that's what they are.
They're not the same as concentrated pharmaceutical drugs that have specific doses. Especially if they're not a "cleansing herb." At the end of the day, they're vegetables and we're suppose to eat more vegetables than any other food group. In fact, it's the only food group that every diet can agree on!
Since half the "vegetables" that we think we're eating are actually fruits (anything that contains a seed is a fruit, like tomatoes, cucumbers, peppers, squash, etc.) we need to expand our vocabulary to fit in these herbs that were never taught to us.
Now, when it comes to Quassia (Bitter) Bark, you will want to take it as a capsule to avoid the taste. Like the name applies, it's extremely BITTER.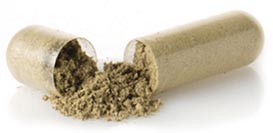 (Food that's bitter is the BEST for digestion and cleaning out the colon.)
Dandelion root and leaf can be prepared as a tea, since the taste isn't as bitter.
(This will help you clean out your kidneys and improve adrenal gland function.)
In chapter 4 I'll share my Slim Tea Recipe. 
It should also be mentioned that tea is child's play when compared to an herbal infusion.
The difference between the two is whether you allow the herb to steep in water for 12 minutes or 12 hours.
The longer you allow the herb to steep, the more the water is able to absorb.
You can take these "cleansing herbs" while you liquid fast or while you intermittent fast if you want an added boost.
Or you may choose to take these "cleansing herbs" without fasting.
It's entirely up to you since all of these methods WILL work. What you should do just depends on your situation.
Also, consider the fact that a 90 day supply of a generic (cheap) version of Lipitor (a statin used to control cholesterol) costs $380 ($126.67 per month). These herbs don't cost anywhere near that price and work better.
The "daily herbs" featured above will keep you from getting hungry, tired, and even anxious whether you're fasting or not (provided you're eating healthy).
Of course if I'm fasting then I'll take more, so I'm less hungry. This doesn't negatively impact the results from a fast, and instead boosts the results.
These herbs are best taken on an empty stomach as if they were their own separate meal, and one hour before most medicine (more on that in chapter 3).

There is one fruit that deserves a special recommendation here.
It's the oldest pepper still around today, known as the Tepin Pepper.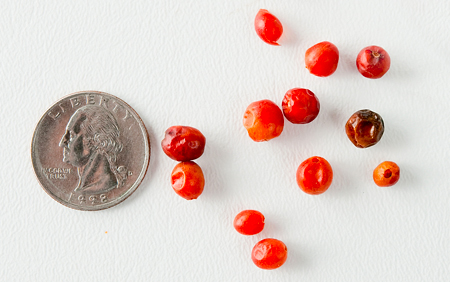 I sprinkle this on just about all my food and I'm rewarded with my sinuses being cleared right up. This can also assist some people with going to the bathroom and improves circulation. But be warned it's extremely spicy like a habanero.
Luckily, the spicy sensation doesn't linger around like a habanero and instead goes away fast. Mind you, I used to HATE spicy food but I've grown to LOVE this little pepper.

Chapter 2: 3 Ways to see if your diet is working (even if the scale doesn't move)

You're not allowed to step on the scale as a part of this diet for three months.
Why?
Because we don't want to psyche ourselves out or become obsessed with numbers.
This just adds stress onto us, which increases insulin and makes this journey that much harder.
It's like trying to watch a pot of water boil.
(poor pot)
You know it's going to, but because you're starring at it now it feels like it's taking so much longer.
It's the same concept with constantly weighing yourself.
Rest assured that eating this way is going to make unwanted weight come off.
Period.
To know you're on the right track, you're going to look for qualitative signs instead of quantitative ones.
That means you're going to compare the quality before and after of your:

Quality of Bathroom Trips
Let's not beat around the bush.
What does the perfect poop look like?!
What's the consistency, frequency, and how should it feel when we have a movement?
Luckily a chart exists that categorizes our bowel movements on a scale from 1-7, where #4 on the chart is ideal.
YES, there's a chart for everything now-a-days.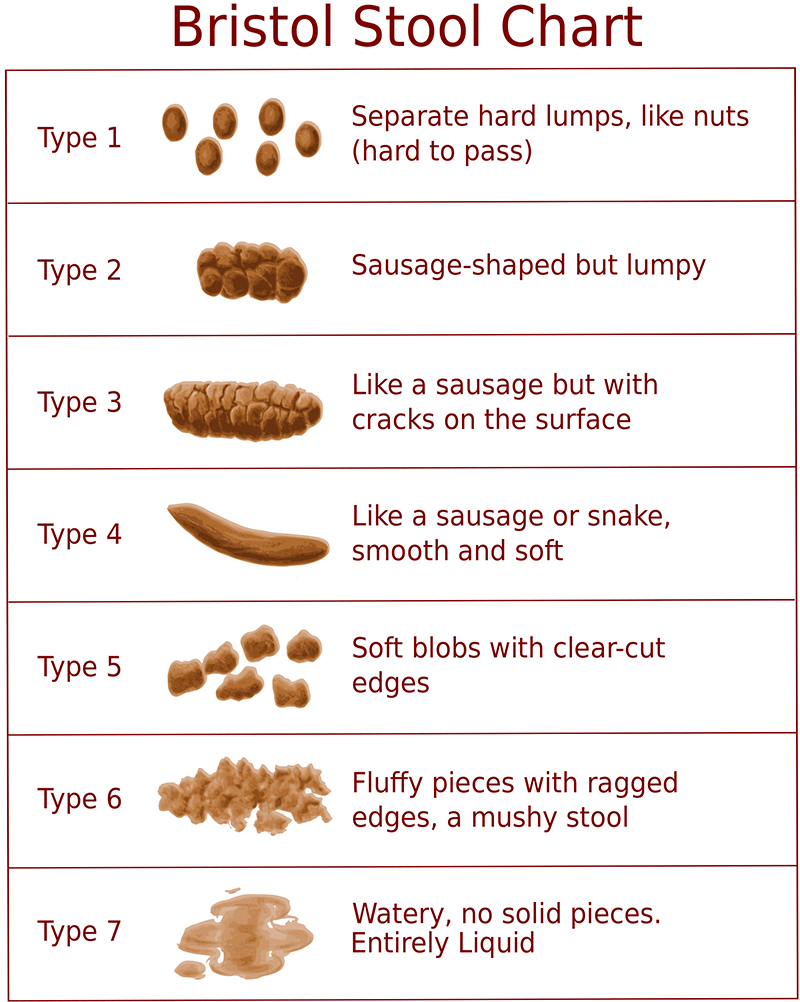 (Stop now and answer - Where are you on this chart?)
Typically, after almost every large meal we should have a movement that passes easily with no force, minimal wiping required and that doesn't smell like death!
That last part is key!
If you're not already around a #4 on this chart, then this will be the first thing you will begin to notice improve.
Knowing where you are now will help guide what you need to focus on.
If you're at either end of this chart, then that means you're temporarily constipated (especially if it's been a few days since going) or have diarrhea. To fix both issues you need to re-hydrate your body and take any combination of herbs from the above list.
Being constipated means that we have been dehydrated for a while.
Having diarrhea means that we are now dehydrated.
Also, it has to be said.
Even though people swear by it, stop drinking Pepto-Bismol to stop diarrhea!
This drug is an antacid, which works by neutralizing stomach acidity so our digestion slows down.
While this is a quick fix to stop our bodies from producing diarrhea, it's also preventing the root cause from escaping as efficiently. It's the body's natural response to quickly get rid of whatever caused the upset stomach in the first place. You do not want to hold this in any longer than it needs to be.
Now our bodies just have to run their course of healing. It's like when we vomit and start to feel better after getting out whatever we needed to.
Pro tip: If you're constipated, then use a "squatty potty" for easier bowl movements.
If you have diarrhea, then drink some mineral-rich herbal tea, which is naturally alkalizing.

Quality of Energy
You should feel amazing!
Even if you're fasting, your energy should be higher than ever.
This is what Ace had to say about his energy during his fast.
(press play)

Quality of Skin, Hair, and Nails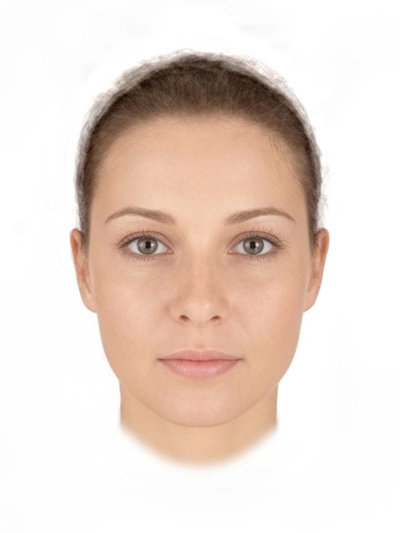 Show me a person's face and I can tell you how their health is.
By looking at someone's skin you can too.
Do they have brown circles under their eyes, oily skin, pimples?
Ace reported that his skin cleared up once he started his fast.
He used to have growths on his skin that just vanished over night. Here's what he had to say about it.
(press play)
Pro tip: Activated charcoal will clean your pores and make you look younger.
Jojoba, Argon, Marula, Tamanu oils will treat dry skin and hair.
Whatever you put on your skin, your body will absorb into the bloodstream. So if you can't eat it, you technically shouldn't put it on. Of course being poisoned through your skin is much less likely than through ingestion, but your immune system will eventually notice the difference.
We also breath through our skin. This is why we have the best ideas in the shower. That's when our skin may breath the most, unhindered by tight clothing.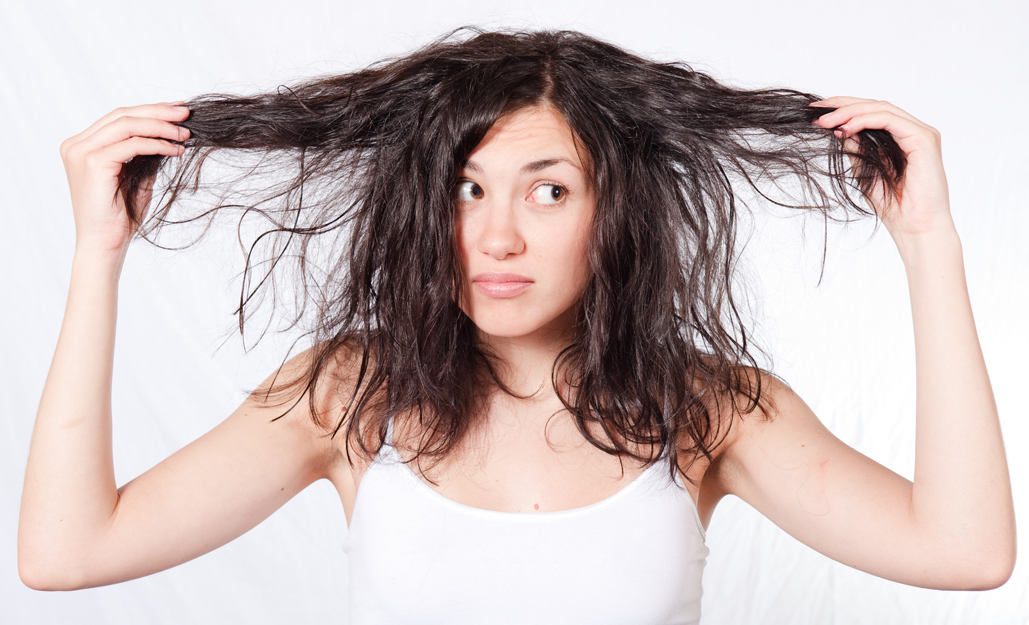 Your hair should not be oily, breaking, or falling out. Proper nutrition can begin to reverse this.
Oh, and gray hair is not a sign of old age. It's instead a sign of stress coupled with a copper deficiency.
Pro tip: Kallawa has the highest amount of copper. And mushrooms, like the Portabella, are also high in copper and make a great substitute for meat if you're vegetarian.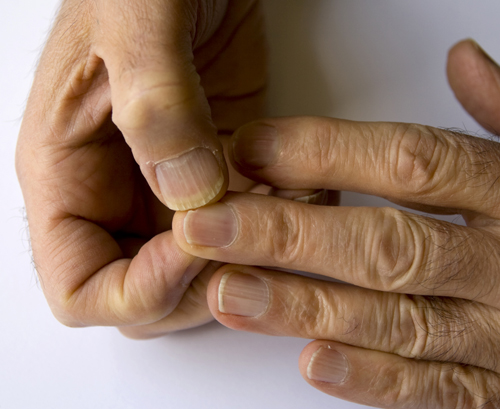 Brittle or discolored nails are also a sign of poor health. A silicon deficiency to be precise.
Pro tip: Irish sea moss is great for this since it's high in silicon.


Measuring vs. Weighing
Ok. I get it.
With all this being said, you STILL want to measure something tangible to track your progress.
So, here's why I recommend measuring inches, instead of weighing pounds.
Measuring weight, or even tracking BMI, doesn't allow you to target areas of the body. This is crucial for determining our potential for disease.
Also, up to 60% of the human adult body is water, which constantly fluctuates.
To be sure you're losing fat, the best tool we have is not a "body fat" scale, but a simple tape measure that a tailor would use.
To understand your body fat content, you want to calculate your waist-to-hip ratio. Divide your waist measurement (measured at the navel) by your hip measurement.
For men, the ratio should be no higher than 0.90%.
For women, the ratio should be no higher than 0.83%.
In other words, we're trying to find out if we're a pear shape or an apple shape!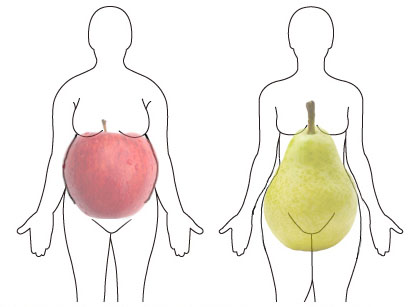 (Which one are you?)
Apple shape = Visceral Fat, which stores underneath our abdominal muscles and puts pressure on our organs and blood vessels.
Pear shape = Subcutaneous fat, which stores directly underneath our skin (above muscle), can be pinched and doesn't pose the same threat.
So, it's better for our health to be a pear shape!
Sadly, we don't have control over which one we are. Some people store fat in their waist while others in their hips and limbs. Just 10 extra pounds stored in the waist can change our blood pressure, unlike 10 pounds stored in our hips and limbs.
Yes, this means a person that looks overweight might actually be healthier than a person that looks skinny and weighs less, but has a protruding stomach.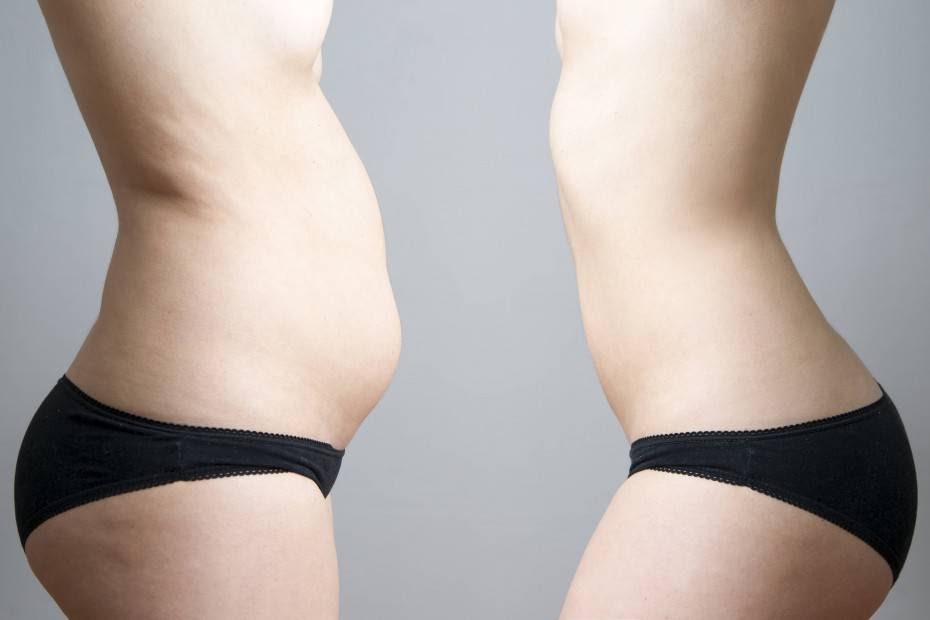 Researcher, Dr. Whitmer from California, says even Dementia is linked to belly size, and not overall weight.
In fact, researchers from the University of California, Los Angeles, examined 40,000 people and concluded that nearly 50% of overweight people, 29% of obese people and 16% of morbidly obese people were not at risk for type 2 diabetes or heart disease.
On the other hand, more than 30% of people in the "normal" weight range were at risk for these diseases.
According to another study, (also performed in California, I'm starting to notice a trend now) Dr. Hirani in 2004 discovered that even if a person had 30 pounds removed with liposuction, they STILL wouldn't see significant health improvements since only subcutaneous fat can be targeted.
But luckily, our bodies are smart. So when we eat healthy, visceral fat is targeted before subcutaneous fat. So your efforts will be rewarded right away!
Though for some people this might be annoying because the "stubborn fat," that people love pinching, sticks around until you get rid of enough visceral fat.
So consistency is key here.
Keep this in mind too. Although tracking visceral fat is useful, it's even more important to track our blood for it's pressure, sugar content, and any mineral deficiencies. 
Pro tip: If you still wanted to track your weight without being misled by water weight, then you're better off doing it roughly every four weeks, following the lunar cycle. Just like how the moon controls the tide, it's the same with the water in our bodies. Which is why it's called a "menstral" cycle in homage to the Latin word "mensis" meaning month, which finds its origin in the word moon. On a full moon we carry more water weight than on a new moon, which can be an extra 5 pounds for some people.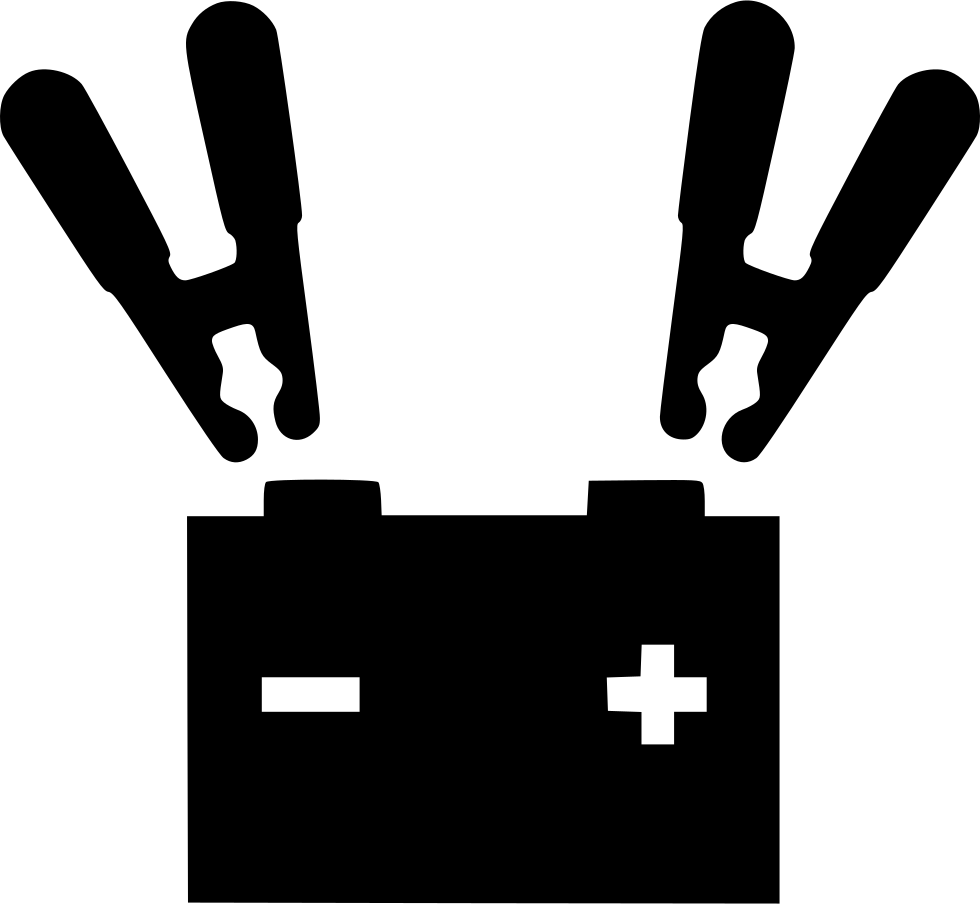 Chapter 3: Common mistakes when using LCHF diet (and how to avoid them)

As mentioned in chapter one, there are 6 scenarios that increase insulin to the point that the body stops responding to it. This causes us to gain weight and potentially get ill.
We have already covered the first two, so now let's jump to the other four.

Eating the wrong fats increases insulin
It's not just the minerals from non-hybrid and wild fruits (i.e. juice) and vegetables (i.e. tea) that doesn't trigger insulin.
Healthy fat doesn't either. That's right, eating healthy fat does not make you fat!
As the name "Low Carb, High Fat Diet" would suggest.
In fact, every cell in our body depends on healthy oils and fats as much as water.
We need fat because each cell is protected inside fat, which we call the cell walls.
Fat also insulates and protects minerals while entering the bloodstream. Otherwise, the hydrochloric acid in our stomach would break them down before reaching our small intestine, where 90% of food is absorbed.
Fat even allows for longer absorption times once in the blood, which means we get more out of what we're eating.
On top of that (pun intended), our brain is even 80% fat and the electrical wiring in our nervous system needs to be insulated with this healthy fat as well.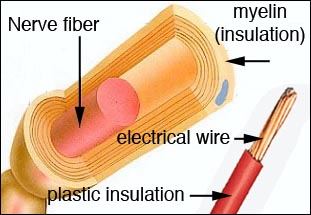 (Fat is critical to say the least)
There are two main types of liquids that we consume, which carries minerals.
Water and Oil.
Non-fat and Fat.
If you squeeze a seed that has at least 25% fat, then you will end up with an oil instead of a juice.
If you blend a seed that has at least 25% fat, then you will end up with a butter instead of a smoothie.
It's interesting to note that while most homes have blenders or juicers for fruits and leaves, how many have equipment to process seeds?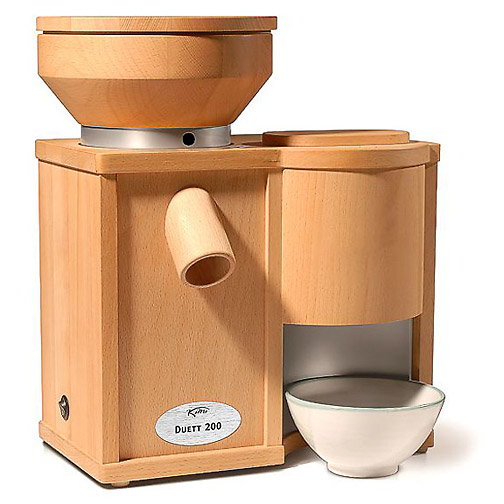 (It seems only South Korea makes automatic, cold-press oil machines for the home.)
Who has a stone mill to produce fresh flour (from non-fatty seeds) or an oil press for fresh oil?
Make no mistake. Oil begins to degrade from exposure to oxygen after it's been pressed the same way juice does.
The same goes for flour overtime.
We don't want to eat stale food.
It's sort of similar to how metal breaks down and rusts, thanks to oxygen. (Side note: That's why we hear so much about "anti-oxidants" being good for us.)
But as long as the seed's shell is in tack, this isn't a concern. The nutrients are protected until you crack it open.
Below are all the (fatty) seeds that produce healthy oils and butters:
Coconut Oil and Butter, Red Palm Oil, Olive Oil, Black Walnut Oil and Butter, Sacha Inchi Butter, Avocado Oil, Cocoa Butter, Pine Nut Oil and Butter, Brazil Nut Oil and Butter, Black Cumin Oil, Black Sesame Oil and Butter (Tahini), Hemp Oil and Butter, Carob Oil and Butter
Pro tip: DO NOT COOK WITH OIL. Professional chefs know the difference between "cooking oil" and "finishing oil." Cooking oil is hydrogenated so it has a higher smoke point. This process produces unhealthy trans-fatty acids, which is what keeps your chocolate from melting in your hand. Even coconut oil can be hydrogenated. We only want to consume cold-pressed, unrefined oils. Meaning they have a low smoke point and aren't good for cooking. So instead use glass cookware to prevent food from sticking, and cover it with a lid to increase the humidity to also prevent sticking. Then put on your oil of choice after you're done cooking to get all the benefits from it.
Everyone may benefit from consuming the oil from these non-hybrid seeds.
The trouble is that when most people think of healthy fat, the next thing we think of is protein. Meaning primarily meat (as if the two were the same).
So now, what's my opinion on meat?
Have you guessed it so far? You might be surprised.
First off, I'm only concerned with the health aspect of this question... not morality.
Let's clear the air. To eat, you have to kill. Unless you photosynthesis your meals or something even more spectacular. Plants are living beings too, just like cattle, fish, goats, etc.
So if it's morally acceptable for me to cut off kale to eat it, then why wouldn't it be for other food? We think plants don't scream nor bleed, but they do.
The "blood" just isn't red (unless it's from the tree, Croton Lechleri - which is the best for healing wounds).
Ever heard of the "mimosa" or "sensitive" plant? If you blow hard against it then it nearly disappears, retracting its leaves.
(This is its defense mechanism, to hide and escape from its predator. - It's also high in zinc and excellent for men's health.)
A venus flytrap also reacts when meat (an insect) comes around.
A carnivorous PLANT!
There's also two kinds of humans, and thus two answers to this debate.
Despite the numerous back and forth on the subject whether we're biologically designed to eat meat, plants or both -- the results are in.
According to scientists we (as in all of us grouped together) are designed to primarily eat plants with occasional meat being fine (although not required for anyone). (There's more to this, of course.)
The amount of meat safely consumed varies for each person and is based on your "metabolic type."
Too much meat (especially the wrong kind) for the wrong person will increase their insulin (even though it's not adding sugar into your blood).
This is the pink elephant that isn't spoken much of (if at all) in Low Carb communities.
Meat can raise insulin levels higher than a large apple, a cup of oatmeal, and a cup and a half of white flour pasta!
The above graph just compares beef and fish, but chicken and pork aren't any better.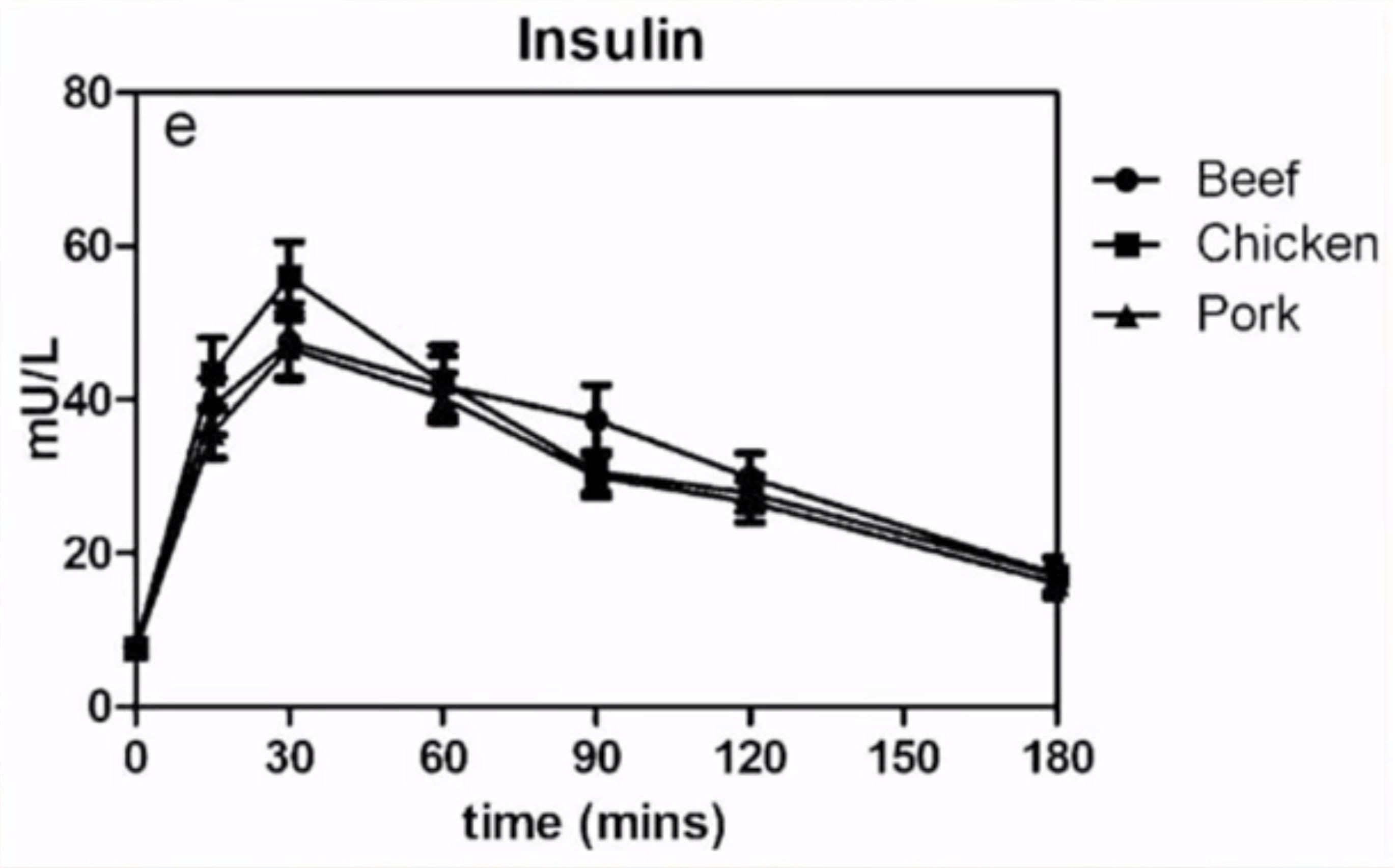 In fact, a meat protein can cause as much insulin release as pure sugar.
You cannot lose significant weight while your insulin is high.
So test this out. If you're stuck at your weight, stop eating animal products for a bit and see how you feel. Pace yourself if you need to by, but give it a minimum of two weeks to really be able to tell the difference.
Studies have shown that after only 21 days people, regardless of age or gender, placed on a vegetarian diet saw a significant drop in insulin. In fact, healthy vegans (because there are unhealthy ones) can have up to 50% less insulin than a person who eats meat regularly.
For more detailed information about this, you should check out Dr. Michael Greger's video here.
With that being said, it's obvious that some people's bodies are more adjusted to meat than others. You most likely already know if you're a meat-eater or not.
Would you rather eat a SWEET dessert or a nice big JUICY steak?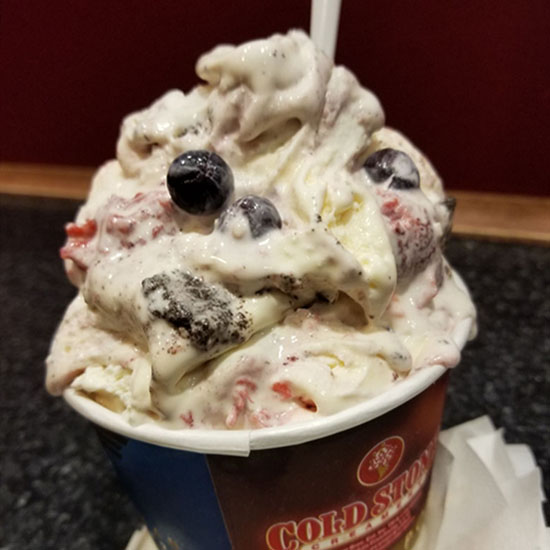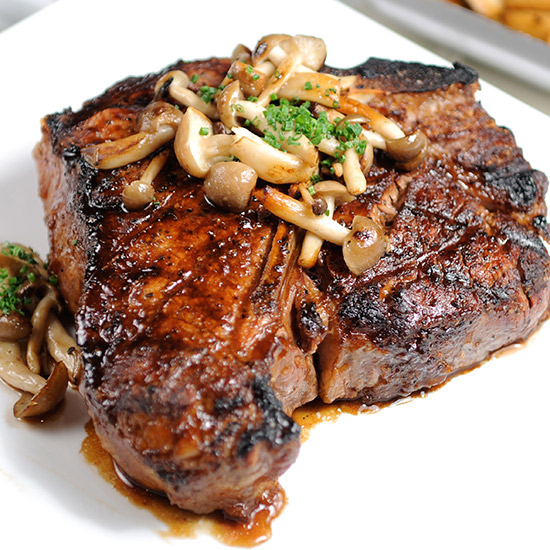 (If you could only choose one to cheat with, which would it be? Sweet or savory?)
Do you often say something is too sweet? Then you're most likely a meat eater.
Many people from colder regions, however, have no choice but to rely on meat.
But it's REAL animals that they eat.
The Eskimo eats walrus, polar bear, wild fish.
The American eats cows, chickens, and pigs.
You would never find these domesticated hybrid animals in the wild. Only behind fences on farms. And, on a farm they're fed mostly GMO corn and/or soy, instead of having access to a range of wild plants.
(Side note: If you want to know how to stay healthy, just look at the plants a wild animal eats to prevent illness. That's how a lot of medicine has been discovered. In fact, where you do think a large ox or gorilla gets its protein from? They're both vegetarians and I wouldn't want to mess with either.)
Most animals raised for food are grown inside giant industrial buildings called factory farms. In 1992, 30% of pigs were kept in a factory farm in the US, and in 2016 it was over 97%.
Not to mention, the labeling of chickens is unregulated. The only term that means anything would be "pasture-raised" as seen below.
Caged
Cage-Free
Free-Range (small doors are provided, but in reality they can't get out)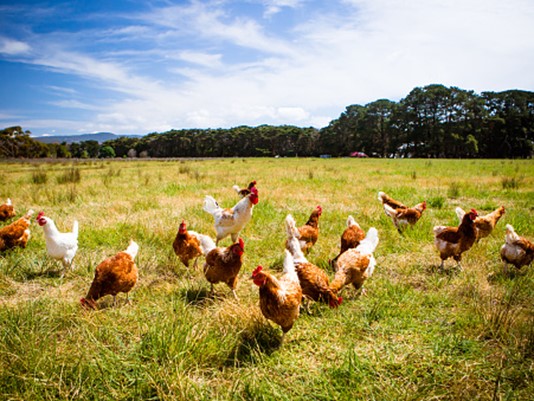 Pasture-Raised
Even the difference between farm-raised salmon and wild-caught salmon is HUGE.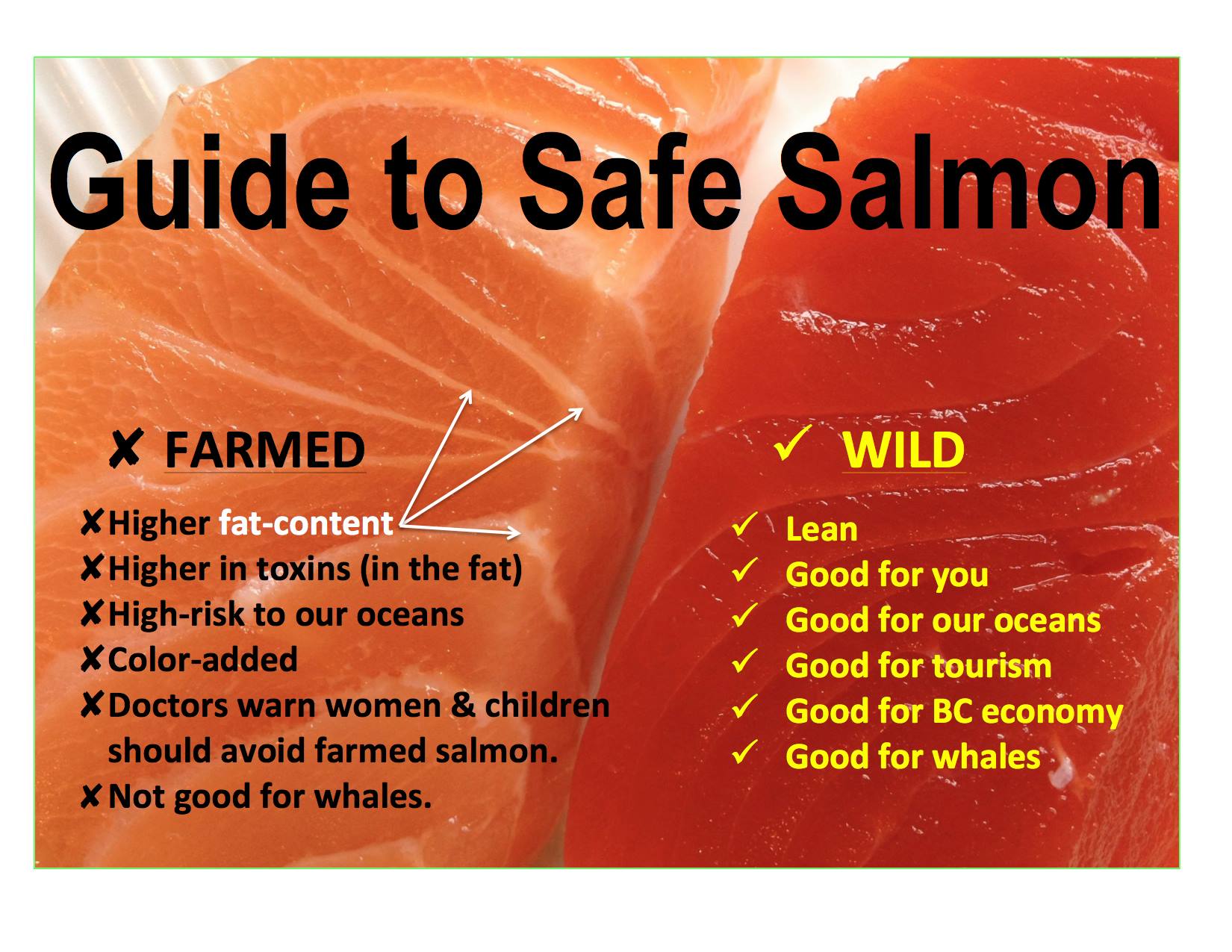 Again, there's a huge difference between farm meat and hunted meat.
Between tortured meat and meat that never suffered a minute in its life, while living in the woods or open sea.
Wild meat is in a completely different category.
The majority of farm-raised animals are hormone injected and tortured throughout their lives. This fact greatly contributes to the spike in insulin we receive when we consume them.
If you torture your food, then you're really torturing yourself in the long run.
Most people don't realize that processed Deli meat is considered a "group 1" carcinogen according to the World Health Organization. Placed in the same group as cigarettes, asbestos, and plutonium. (If you haven't seen it already be sure to check out the Netflix special to learn more, called: "What the Health.")
Mass cattle production is evil. Animals born in hell, raised in hell, killed in hell. For your nice barbecue with your friends, children, and family.
Knowing this, would you rather consume the personality / energy of a farm-raised animal or a wild animal?

(Grazing cows / grazing humans - Doing what everyone else is doing is the quickest way to mediocrity.)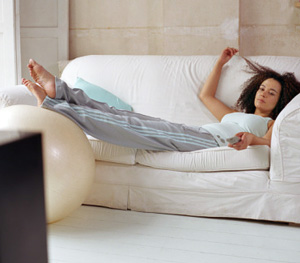 - OR -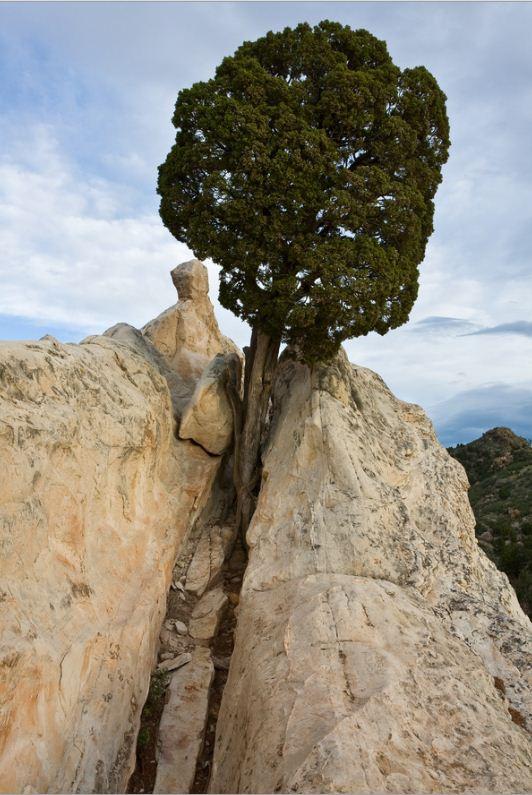 (Wild vegetables / wild humans - Thriving in the harshest conditions.)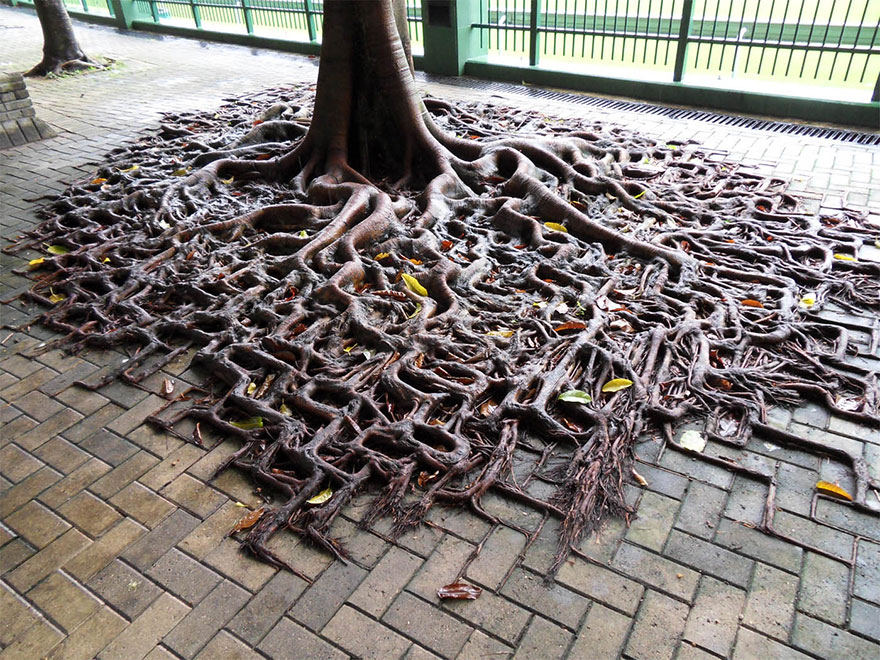 If you're a "sweet" type (like me), then cutting out meat isn't that big of a deal. Again, it's not required to be healthy, but it is your choice. And if you want something to help you during your transition, or that's similar meat, then there is an American company named Beyond Meat, which is completely vegetarian.
Their concept is revolutionary.
If you're a "savory" type, and still want to occasionally indulge, then focus on non-hybrid animals. For example, bison (buffalo) meat (even though it's red meat) is healthier than chicken. If you know a hunter, then that's even better.
If you decide to go with wild fish, then remember that there's a reason why Asian cultures drink green tea along with their meals. The antioxidant known as "catechin" blocks the absorption of mercury that the fish might have picked up from the ocean.
(Side note: Protein powder and protein bars are not any better.)
Notice how I haven't mentioned dairy products yet?
Milk, butter, cheese, yogurt.
Despite the supposed "health benefits" of dairy that we get bombarded with in commercials, consider this...
When we're babies, we require much more sugar and fat to feed our developing nervous system than when we're older.
A mother only produces milk for the length of time that it's required of their young to drink it. Our bodies are that smart.
Now, when we're older it would be too much for us.
Not to mention the fact that we're the only animal that drinks milk from another animal.
Plus cows are hybrid animals. Our beloved dairy (Holstein) cow is a cross between a buffalo and an ox!
At least goats are natural animals, which is why their milk more closely resembles human breast milk.
But again, dairy causes far more harm than good no matter who you are. The only exception is if you're a baby drinking your mother's breast milk.
What we have just done with this section of the guide is reconcile the great debate between two titans: Dr. Robert Atkins (Low Carb, High Meat) and Dr. John McDougall (No Meat, High Starch).
First we need to know which side of the metabolic spectrum we are on.
Some people are more sensitive to farm meat, while others are more sensitive to hybrid starch.
Then we can seek out the highest quality, non-hybrid, wild versions of that food.

Taking medicine increases insulin
Blood sugar levels will improve before you begin to see the weight come off.
Your body knows that it needs to fix that first. 
The trouble is if you're taking medicine, especially if you're a type-2 diabetic, then you need to slowly lower the dosage underneath the supervision of a trusted doctor. (More about diabetes will be discussed in chapter 5.)
Whether you decide to do a liquid fast or just eat cleaner food, you have to be aware that your condition will be improving, so you won't require the same dosage of pharmaceutical drugs.
As it improves, the less drugs, hormones and steroids you will need to take.
Think about what would happen to a healthy person if they took pharmaceuticals for something they didn't have. They would get sick!
Unlike with natural food, proprietary medicine is foreign to the body. If there's nothing for it to fight in your body, then you'll just be experiencing something from the list of side effects, rather than the benefits.
Your body then needs to detox itself from the medicine.
No where in history have we needed to take a pharmaceutical to prevent or cure an illness, to be healthy. Only food can create health.
Pharmaceuticals only exist to treat the symptoms, to make you feel better in the moment, but not to cure the root cause. Which is said so often a shirt could be made.
So again, if you're taking ANY pharmaceutical drug, then it's critical to pay extra attention to your body and consult with your doctor, so they may tell you at what point you can lower your dosage and eventually come off of the drugs.

Lack of stretching (stagnate blood) increases insulin
How clean our blood is depends on our circulation.
The faster our blood is moving means the more times it is filtered through our heart. Which means the cleaner it is.
We fast to clean our arteries, which improves circulation.
Stagnant blood is a killer.
Exercising (preferably fast vs slow cardio), stretching (preferably aerobic vs. static), massages, acupressure / acupuncture and even dry brushing (preferably with cactus bristles), to stimulate the skin in the direction toward the heart, all improves circulation.
At the minimum, it's great to stretch daily. Especially when we sit in our cars, sit at our offices, and sit around in our living rooms for the majority of the day.
A daily yoga and / or Qi Gong routine would make a HUGE difference.
You can easily follow along on YouTube with Adriene for yoga or Marisa for Qi Gong.
Qi Gong focuses on acupressure points and is closely related to Tai Chi, which focuses on postures for martial arts fighting.
Pressing on a body part brings more blood to that area, which then receives more nutrition from the blood (nutritious sugar and minerals). Overtime your nervous system becomes trained to keep more blood than usual in that area if you keep up a regular practice. It's like your muscles, if you don't use them for a while then your body will stop prioritizing them and they'll begin to atrophy.
The one thing that all these practices share in common is a focus on breathing technique.
Watch any video about Wim Hof and you'll see how powerful controlling the breath is for our immune system and body.
Short shallow breaths throughout the day hurts us in the long run.
When we breath deeply enough, so we can feel our stomach rise and fall, we're also able to squeeze or "pump" our abdominal organs. This is similar to how the heart pumps. This helps get the blood flowing to improve absorption and elimination of contents in the blood. 
Many breathing exercises also focus on curling the spin to also get the blood flowing throughout our body, as well as get the spinal cord fluid moving.
There are many videos you can find to demonstrate this, like this one here.
If you have trouble moving and sit most of the day, then a machine which compresses the legs would also be beneficial to improve the circulation of blood back towards the heart.
(Side note: Hof also made famous the "cold shower method." It's great for boosting energy, so you can maybe skip that coffee, helps you burn fat as your body is forced to generate heat, and increases your body's tolerance to stress and disease. Give it a try next time you shower by slowly lowering the temperature of the water right before getting out for at least 2 minutes.)

Stress increases insulin
relax

let go
breath in...
1
2
3
I'm not going to say we need to stop stressing or risk illness. We already have our doctors pleasantly reminding us of that.
What I will say is that we shouldn't think stress will magically go away without taking action to help it.
Of course, if it's possible we should reduce our exposure to sources of stress.
Cut out the people in your life that don't make you feel amazing! In the long run, it's better for everyone.
But I know you've heard that advice before. So if that's not possible, then focus on giving yourself some "me" time.
It's too easy to lose our identities when our time is stretched thin by others.
Remember it's not selfish to take care of yourself. It wouldn't be possible for you to help others without you being well first.
Also, remember that time "so-and-so" let you down. Well, it's time to forgive them.
Harboring grudges hurts you more than the other person.
And don't even think about blaming yourself for that "thing" that happened years ago. Forgiving yourself is just as important as forgiving others.
This alone can relieve indigestion, heartburn and a number of other symptoms as odd as it may sound.
The truth is that these negative emotions feed us something worst than carbs.
If we have a negative thought (violent, anxious, etc.), then we certainly have an illness that deserves eating better for.
A negative thought is an aspect of sickness to me. If we experience a negative thought, then we can go higher.
Be wise about what you allow yourself to consume.
I believe stress is more dangerous than cigarettes. If you think about it, you can find some people that live to an old age despite smoking like a chimney every day. Like America's oldest veteran, Richard Overton, who's 111 and smokes 12 cigars daily.
The human will to live seems to matter more than all else. Everyone that lives to an old age has one thing in common, they're all happy and enjoying life!
We have only two modes: parasympathetic (rest and digest) and sympathetic (fight or flight).
When you push yourself non-stop and feel burnt-out, your digestion (ability to break food down with enzymes) slows down, absorption into your cells from your blood slows down, and your elimination of food waste slows down. Everything becomes stagnant.
Our thoughts and emotions directly influence our physical well-being. Some meditation to calm the mind can go a long way and can even double the will-power in some people.
A "short cut" to the calming effects of meditation can be found in consuming vegetables high in Iodine to help your Thyroid gland, which sends various hormones throughout your body. More specifically sea vegetables, such as:
Irish Sea Moss, Bladderwrack, Kelp, Wakame, Dulse, Arame, Hijiki (avoid if contaminated with arsenic), Nori (algae), Ulva (sea lettuce), Kombu, Mekabu (root of Wakame), Mozuku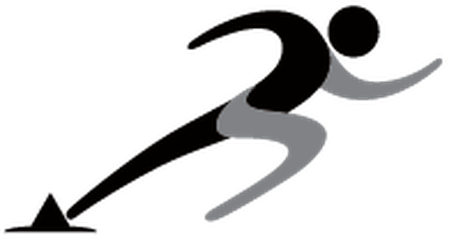 Chapter 4: What to do if you fall off track with the LCHF diet

Society prefers that we "accept" ourselves for who we are right now. But if you're still reading, then you're someone who wants to push past what society has laid out for you.
Society also tells us that it's normal to gain weight as we get older. Just look around. But is this really normal?
We all develop identities as we go through life. These are the stories that we tell ourselves, which can remain the same from the time we're children. 
Often they are lies, like "I'm just a big person. It's who I am." or "I'm not heavy. I'm just fine. I'm only slightly overweight."
But who really wants to be "just fine," or worst, have to hear it from a friend?
Wouldn't we rather be exceptional!
We forget that we can change our story whenever we choose. Even if we have "obligations" towards others, there's still always a way if you want it bad enough.
Secretly we know this, because we see other people changing their stories all the time.
But it's never comfortable facing the truth that maybe we've been wrong this entire time. It's less work to stay in the dark.
It's socially acceptable to blame our thyroid or metabolism, and compare how easy we "think" it is for others to lose and maintain their weight.
In reality, very few people will tell you what it takes, because frankly not everyone cares to hear it. They only want to hear the shortcut, to learn the "one" thing they need to do. But you and I both know that's never the case.
We have to be prepared to confront our own psychology, the lies we tell ourselves, in order to change our bodies.
Self-sabotage is a real thing. What you believe is what you will become. If you can't accept changing, then it won't happen because you'll always find ways to prevent it.
While there are occasionally valid medical conditions (exceptions to the rule), there are things that anyone can do to change.
Remember that eating healthy so you can feel good is to show yourself respect! To treat yourself good, is to honor yourself.
What story are you showing the world? What story do you want others to watch?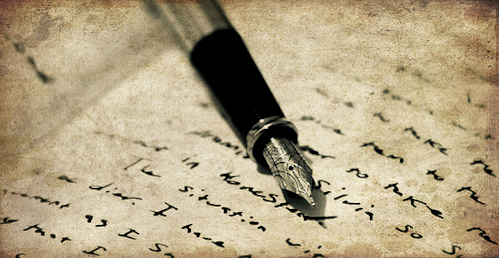 (Time to pick up the pen!)
The two biggest enemies to living this lifestyle are boredom and convenience.
Sometimes we break a diet because we're eating for comfort. We want food to be our escape from loneliness, and provide us with a novel experience.
If we're unhappy, then we look for food with a crunch... like a bag of chips.
We don't even consider that maybe we can find something else to do, that's unrelated to food. Whether it's an event with friends or an interest you pursue on your own, either would be more rewarding than munching.
If you can relate to this, then stop now. Make a list of other activities you would love to do the next time you're bored, upset, frustrated, etc. It's important to plan ahead and know this list rather than trying to find something to do in the moment. (Are you stopping now to write?)
(Side note: spending time with friends doesn't always have to be over food or alcohol.)
An "abundance" mentality is also crucial.
In contrast, a "scarcity" mindset means that you eat whatever free junk food there is on that table in the break room.
Maybe our parents instilled in us at a young age to "never waste food." So we feel the need to always clean our plate even if we're totally stuffed. In practice, this belief serves to hurt us more than help. This is something that I had to overcome, and can now appreciate no longer telling myself that I'm the guy who "can't turn down free food."
I know there is much better food out there, than the crap that's freely available.
Now to help keep you on track, we'll go over some fun, tasty and convenient guidelines to "meal prep" that will save you time while cooking at home. All while highlighting a few special ingredients.
This includes a:
We're going to skip something solid for breakfast since we're following the intermittent fasting model.
For lunch we need something travel-friendly, since we're usually not home during this time.
For dinner we want something that we can look forward to after a LONG tiresome day at work. Something that doesn't require us to stand in front of an oven for an hour before we can eat, or have to give up our weekends just to meal prep.
These are the best meals that I have come up with and eat often.
Keep in mind not to psyche ourselves out by saying things like, "I messed up today, so I guess I might as well continue to cheat and start fresh tomorrow."
Tomorrow might never come, so don't put off what you can do today for tomorrow.
(After this, we'll take a look at some tools I use in the kitchen that save me time.)

Liquid Breakfast
In America, most of us start our day with a cup of coffee (extra processed sugar and cream, please). Without it, don't bother talking to us right?
But this habit of drinking a single cup, five days out of the week, adds up to make us dehydrated and constipated. Add the fact that we're tired in the morning, not because we need caffeine, but because we're dehydrated from fasting during our sleep.
If we instead just drank 16 ounces (two cups) of water within 1 hour of waking up then we would begin to feel the energy coming back to us.
Room temperature water is the easiest on our digestive system since the body won't have to expend any energy to warm it up.
(Side note: This is why Asian cultures don't put handles on their tea cups. Their philosophy is that if it's too hot to hold, then it's too hot to drink.)
Also, it's good to drink water 30 minutes before eating and 30-60 minutes after eating, instead of while you're eating to avoid gas and bloating. A small amount of water during a meal of course shouldn't cause trouble.
But not all water is treated equal!
Most people think drinking bottled water is enough to re-hydrate us. But the truth is there's not enough minerals in most bottled water to replenish us.
The key difference is that we don't want empty water. We want living water!