Suggestion #4: Take Herbs Daily
If you want to really take your health and body weight seriously, then the next level for you is to "supplement" with herbs. Unlike artificial supplements, herbs come directly from nature meaning they're more complex than what man is able to duplicate, providing you with the best possible effects. Herbs will absorb completely into your body, unlike a vitamin C pill... that you end up peeing out, wasting your time and money. In all honestly, there's just two categories of herbs that you need to know. Herbs you can take everyday... and herbs you can only take for a temporary period for a detox.
To download my list of which non-hybrid herbs you need to be focusing on (which are the best I've discovered after years of research that you won't find anywhere else), just enter your name and email by clicking on the image below and you'll receive this in the 3rd email after signing up:
Sample Preview: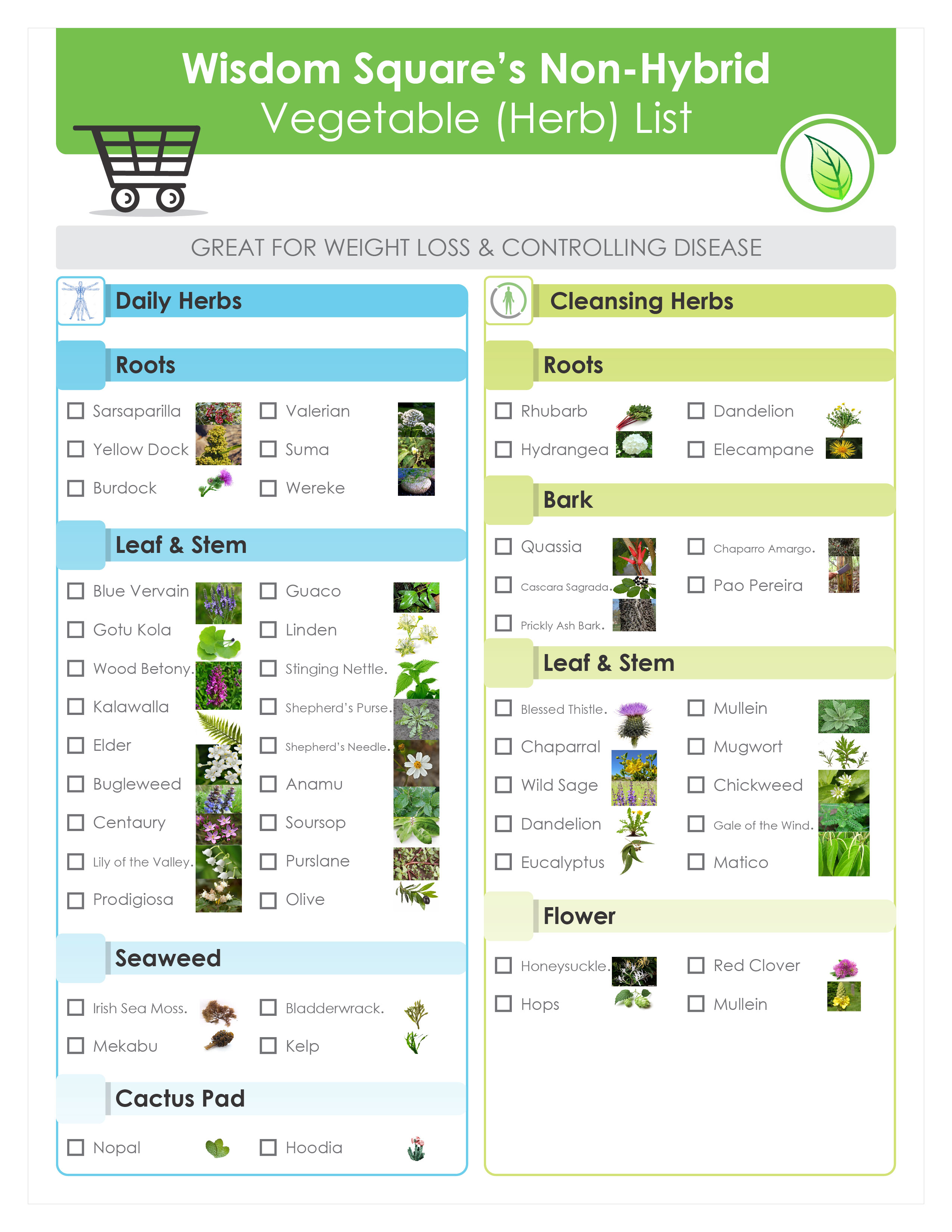 Here are the websites I use to purchase these herbs from:
3. TropiLab
Suggestion #5: Take a Spagyric Daily
This is the highest level of health you can possibly achieve. You see, the best possible herb is only so good in its natural state. What you really need to do is extract the whole herb into a liquid if you want that plant's full benefits. Below is listed in ascending order the best ways to "eat" vegetables (herbs).
1. Use a coffee grinder to make a powder from the dried herb, which you can add into smoothies as a boost - making your own "green powder" - or just place into a capsule.
Bonus: add mandarin juice and coconut water to boost absorption
2. Place the whole dried herb in hot water for 15 minutes to make a tea
Bonus: add key lime juice to boost the benefits

3. Place the whole dried herb in hot water overnight to make an infusion.
4. Vaporize the herb to inhale into your lungs (almost similar to breathing in the steam from tea or soup).
5. Tincture.. which is similar to an infusion except made from either grape alcohol or vegetable glycerin.
6. Spagyric.. a tincture is only step 1 out of 3 steps.
     a. Ferment - extracts all water-soluble components (think of pure grape alcohol, no added sugar... and every time a person tried to tell you about its health benefits.. the same goes for apple cider vinegar and even fermented vegetables like sauerkraut. All of these are made by being submerged in water for a length of time.)
     b. Distill - extracts all oil-soluble components, concentrating the nutrients by removing all the impurities
     c. Burn - extracts all mineral salts (instead of throwing out the solid herb like you do when you make a tea or tincture, you can actually get more nutrition from the white ash that's been "purified through fire.") 
It is very rare to find this being sold, but if you do a quick Google search you will find a few websites that do (click here).
Now you can help me out by using the buttons below to share this article. Thank you.