(This article was written on 2022)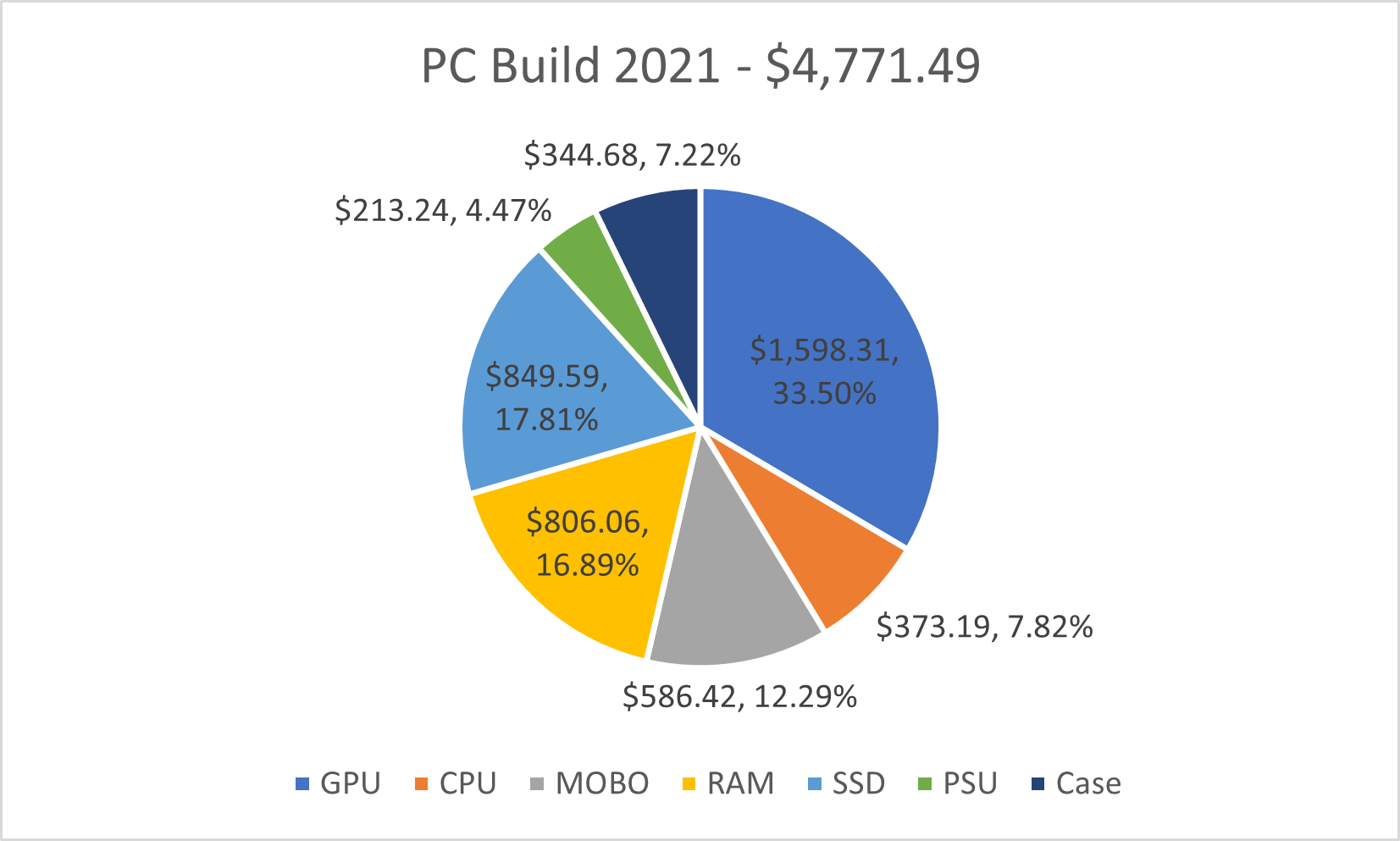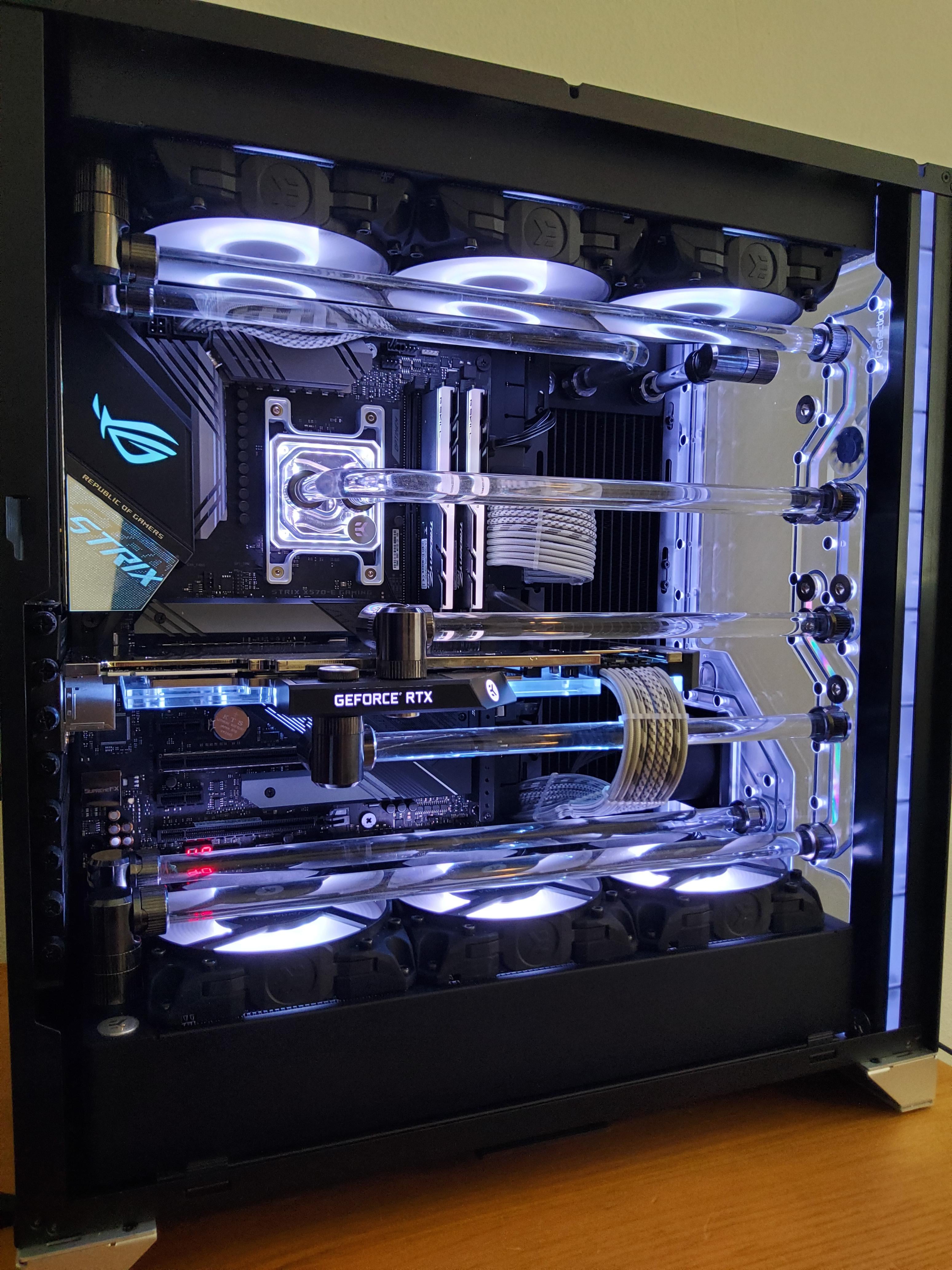 check here to find the best aftermarket graphics card
Windows 10 Debloater Software (ChrisTitusTech win10script)
GPU (Graphics Processing Unit)
Geforce RTX 3090 TI
Geforce Next Gen (September 2022)
Aftermarket Asus or MSI (check it is thier highest tier model and has 3 8-pin connectors)
[4090 Graphic Cards recommend 850 or 1000 watt power supply]
__________________________________________
Don't do bottom rad since impossible to drain, stick to 2 rads (top and side) to reduce pump speed and you won't notice a difference of 1-2 celcius.
EK-Quantum Vector (front water cooling block)
EK-Quantum Vector (rear water cooling block)
CPU block
RAM and Motherboard Blocks? (get RAM with temperature sensors)
$379.99 - EK-Quantum Reflection PC-O11D XL D5 PWM D-RGB - Plexi (Pump + Reservoir Combo) (EKWB)
(two pumps is only for redundancy in case of failure, not for improved performance)
(rinse out water blocks, tubing, radiators, reservoirs with distilled water first before using)
3 - 360 Radiators XE (bottom then horizontal GPU), PE (top), SE (side) (higher RPM of fans with thicker radiators that restrict airflow)
$119.99 - EK-CoolStream XE 360 (Triple) (EKWB)
$107.99 - EK-CoolStream PE 360 (Triple)

25 mm fans (anti-static) Arctic or Lian Li or EK?
$34.99 - Thermaltake 10 fan PWM hub (Amazon) vs.
$9.99 - ARCTIC Case Fan Hub - 10-fold PWM (Amazon) vs.
OCTO fan controller for PWM fans

(top and bottom fans set to exhaust, provides best temps but must dust regularly, side and rear intake)
$195.95 (should be $75.25) - NEXT flow sensor (amazon)

14 mm tubing from top and bottom radiators and 90 degree torque fittings. (14mm OD tubing, corsair Acrylic)
Drain port on front outside (Bitspower Black Drain Valve)
$? - Thermal Grizzly Minus Pad 8
17w/mK Fujipoly pads (best)

Corsair XL5 coolant performs better than the pastel EK cryofuel (about 1.5 litres of the Purple then added maybe about 250ml of the clear to dilute it)
(GPU idles around 25c's, the CPU around 30c's.... under load GPU stays under 40c's and CPU hovers around 50c's... all with the fans at 50% speed, I gain a few C's if I push the fans to 100% but I'd rather have the silence)
(a basic $5 temperature sensor wire that comes out of port on distro, lets me know how warm the coolant in my loop gets. My coolant idles around ambient room temp which is 20-25c, and under load stays under 35c.)
(How were the temps and flow rates when you had the 3 radiator setup (top, bottom, side) versus the 2 radiator setup (top, bottom)? they were pretty much the same, maybe a degree or 2 different, but the only difference I noticed is since I had more rad space I can run the fans a little quieter... however it isn't worth it to me because it just means I have to run my pump a little louder, and the pump is the loudest thing in my build. These Arctic P12 fans are amazingly quiet even at high rpm's)
(How do you flush the distroplate without making a mess? I don't like clunky dedicated drain ports so when it's time to flush I just flip the case on it's butt and attach it then. the bottom radiator with this setup is impossible to flush out, I literally have to take it out and do it manually, that includes the lower tubes being full of fluid when I'm taking it all out. This isn't a big deal since if fluid spills it won't spill anything other than the radiator itself.)
$7.99 - Lian Li Graphic Card Anti-sag Bracket (Micro Center)
set fan curve to go to 100% when temp goes to 45 C
2. CPU (Central Processing Unit)

$944.00 - AMD Ryzen 5 5950X (ebay) or $799.99 @ Micro Center in-store only
Mid 2022 Next Gen CPU for DDR5
4. MOBO (Motherboard) 
DDR 5 Motherboard
5. RAM (Random Access Memory)
DDR 5
9. Case (how to build)

$229.99 - Lian Li 011 Dynamic - XL (NewEgg)
11. Case Fans (click here to learn about bottom fans)
1 Rear airflow fan (the rest is static pressure mounted on radiators)
12. Thermal Paste & Cable & RGB Light

RGB fans
RGB 2 cables to motherboard and to graphics card from Lian Li or elsewhere
Lian Li Strip
Reservoirs
RAM
15. Sound Card (included on motherboard)
To minimize electrical interference an external DAC (like the Focusrite) is best. Use XLR cables.
16. Software
$139.99 + $9.27 (tax) - Windows 10 Home (usb or digital download)
windows 10 debloater software
$69.99 - $4.64 (tax) - Microsoft 365 Personal
Pre-Tax: $2,970.40 + $ 196.44 (tax)

Total: $3,173.18 (not including screwdriver, USB or software)